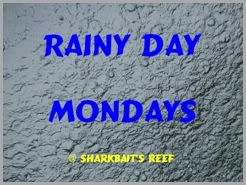 My friend Mark over at Because He Lives says that "I have two kids, two dogs, two four chickens, two garages and if it wasn't for my one wife Liezl I'd live in symmetry." I've know Mark for a long time, since before he ran away from the Church to join the Circus (okay, technically it's a Non-Denominational Church, but sometimes it's hard to tell.)
His first blog post ever was one called Science and Religion, and I think it deserves a reprint. So here is this week's Rainy Day Monday Post.
Science and Religion
Yesterday I continued a rolling chat with a friend from work. Never wanting to skim the surface he always seeks to discuss topics of importance, the deep things of life. As payment he listens to my relentless campaign to position Christ as the Saviour of the World. He is not passive in our debates. He fights back with his own brand of religion, Atheism (I know I'm going to get flamed for that one). Sometimes we're philosophical, sometimes we're ethereal and sometimes it's a cat fight, but it's always interesting.
So we were discussing children and religion. The big point for the day was his belief that children shouldn't be taught about God until they have the ability to choose whether or not they believe in "all this religion stuff" for themselves. It seems that this idea is being given serious weight in Europe and not just by the mega evangelist Richard Dawkins either (another comment, another flame).
So this morning my daughter Kathryn comes through to the bathroom. She's three and knows everything. She has been having teaching time every day with her mom since her sister started school last week.
I'm a keenly enthusiastic parent, like everyone else, so I asked, "Kathryn, what did you learn in teaching time yesterday?"
"About angels," was the response.
Now I've got this conversation I had had the day before floating around in my otherwise empty head and now I'm curious, so I pressed, "Angels?"
"Angels daddy."
"Um, what about angels did mommy teach you honey?" I asked.
She joined her hands together in a shape in front of her and said, "Triangels daddy. Triangels."
Who says science and religion can't live side by side?
If you enjoy Wikipedia go and check out http://en.wikipedia.org/wiki/List_of_Christian_thinkers_in_science.
On the subject of children and religion Proverbs 22 verse 6 says:
" Train up a child in the way he should go,
Even when he is old he will not depart from it."
I have still got a bit more training to do.
How well do you hold the tension between science and religion?
If you are taking part in Rainy Day Monday, please put your name and a link to your post in the Mister Linky Widget below, so that others can visit you as well. Please ignore the second widget, I am having problems with Mr Linky today.
This site is using Mister Linky's Magical Widgets.
To add your link to the list, enter your name and URL in the form below and press Enter.
Please leave a comment after linking... Thank you!
And have you read about Mister Linky's new features?
Caching system in use -- Links may take a minute to post
Read more about it on the blog!