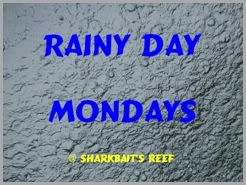 Well, in a strange turn of fate, today actually is a Rainy Day Monday, because it is cold and wet.  It had to happen some time.
Rainy Day Mondays is a meme I host where you choose an old post of your own, (or someone else's), that didn't get as much attention as it deserved when it was posted, and so you save it for a Rainy Day Monday.  Today was supposed to be a RMD post from a friend, but I decided today will probably be something of a low day in blogging.  After the long weekend, many are on holiday, and probably won't be checking their computers.  (Come to think of it, what are you doing here?)
So I am posting a short post I did many months ago called Hope  The "poem" seemed appropriate, given the season we are in, as it talks all about hope and faith.  It was originally part of a larger poem, but, as often happens, the one line was the best part. 
Hope comes in the morning,
But faith gets you through the night.
(Sharkbait)
Sorry, that's all I got for you today. If you want something a little more profound...
If you are taking part in Rainy Day Monday, snatch the button on the side bar, and post a link in the McLinky widget below.  If McLinky is misbehaving again, just give him a kick, and leave your link in the comments section.