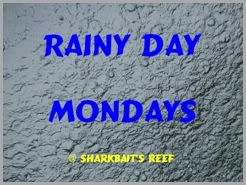 My featured blogger for this week's Rainy Day Monday is Sherri from Matter of Fact.
I am using one of her first posts, called Close, but no cigar.  Despite being an early blog post, I think it got more comments than any of my blog posts have ever got.  However I believe it deserves another look.  So here, for your Rainy Day Monday amusement, I give you….
* This is one of the very first posts I wrote on MySpace a couple of months ago. I wanted to share it with you.



I attended my niece's coronation ceremony for Homecoming recently. She was not crowned Queen, but was in the Queen's court, a huge accomplishment as she is from a rather large high school in our area.
I almost was in the queen's court my senior year (26 years ago) . My mother almost became queen over 50 years ago.

I go to church with a guy than runs for Rend Lake College, made the Olympic Track Team for his home Country, Kenya, Africa! He almost made the finals!

I watched my middle son fight in a CAGE FIGHT,( I know, I know) only his second time, where he was boxing and really whipping his opponent for most of the match. He almost won!

Another son had an oil painting win first prize at a college art fair! He almost won Best of Show!

What I realize is, these were all remarkable accomplishments by ordinary people but so often if we don't reach the tip top, #1, Champion, it seems to lessen the experience. How very sad.

Did you know that a guy from Rend Lake College in Southern Illinois ran against Olympic Champions? His name is BOAZ.

Did you know that my son won his very first "cage fight" with just minimal training?

(You'd have to watch these cage fights/mixed martial arts fights on TV to really appreciate this- although I use the term "watch" loosely. I only peeked through my fingers a couple of times!)

Did you know my son's painting hung in the Halls at John A. Logan College?

Yes, a beautiful oil painting of Muhammad Ali (what's with my kids and their fascination with violence?)

Did you know my mother was dirt poor back in the fifties, a daughter of an alcoholic, and she actually made it into the Marion High School's Queen Court?

These accomplishments in and of themselves are deserving of applause.

I often live in a world of "almosts"....
I almost closed the deal and sold that big ad,
I almost lost enough weight,
I almost got the whole house cleaned....

Ya' know what? I've learned valuable lessons from being "almost great"!

I'm humble, I'm very flexible, not easily discouraged, and I have a great sense of humor.

I've learned to strive for excellence but I'm Okay with the fact that even at MY best, someone else just might be better.

More than once I've had someone say to me, "Close, but no cigar!".

I'm Okay with that--- What would I do with a cigar? I don't even smoke!
If you're taking part, you know what to do.  Fill in the Mister Linky Widget, and snatch my button.