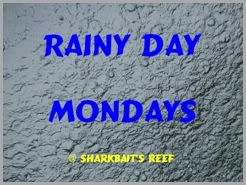 If you are very good at counting, you will notice that last week's
Rainy Day Monday
post was number 20, and the week before was 18. So it only makes sense that this week should be 19, because that's how I roll. Deal with it!
Rainy Day Monday's are a day to take a post out of the archives, and expose it to a fresh audience. Many of you probably know Annie K over at
Buzz by Annie's
. She takes some pretty awesome pictures of the sun (yeah, really) and blogs some pretty awesome insights. One of these that she blogged in January 2009 was called Bless My Socks Off, and she has kindly agreed to let me post it again.
Lately, I've been feeling a wee bit down. I think that probably all working wives/moms feel that way, kind of like an episode of The Neglected Housewives. So, this morning, I threw down a dare to God (in a
'nice'
way). I get these little devotions emailed each morning from Turning Point Ministries. That is
Dr. David Jeremiah's
ministry and if you have never heard him speak, you should find a radio station that plays his messages and do so. I have a tremendous amount of admiration and respect for the man because he knows his stuff. Anyway, back to the 'dare'. I told God, "I dare you to bless me this morning." And He did. (Now I don't know if God likes it when we do that, but somehow, I have a feeling that after I read my little devotion and said 'wow, that blessed me' he probably blew the smoke from the barrel of the gun and walked away to the sound of The Good, The Bad, and The Ugly playing in the background.) Because I love you all so much, I wanted to share my blessing with you.
Irrevocable Promises
For the Lord your God will bless you just as He promised you.
Deuteronomy 15:6
Some days are harder than others, and perhaps this is one of them for you. Life is full of frustrations, and we can grow mighty weary with financial pressures, family problems, church misunderstandings, and workplace conflicts. It sometimes seems like we're losing our minds.

But God is not losing His! Remember that nothing revokes His faithfulness. His promises to us are irreversible, unalterable, firm, and fixed. There are conditions to be met, of course; but outer circumstances must bend, in His time, to the purposes and promises of God for our lives.

Dietrich Bonhoeffer once said, "God does not give us everything we want, but He does fulfil His promises… leading us along the best and straightest paths to Himself." The Lord your God will bless you just as He has promised in His Word.

His promises are sure, His blessings are great, His grace is sufficient, His presence is near, His mercy is everlasting, and His truth endures to all generations. Cheer up! It's not as bad as it seems.

Let God's promises shine on your problems.
Corrie ten Boom
Oh, and as God was walking into the sunset, I thought I heard him say 'touche'.
So pop over to Annie's Blog and say "Hi", and then do your own Rainy Day Monday Post. You know you want to. We have Mr Linky, and buttons. What more could you ask?